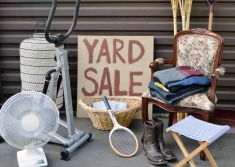 19 May

Spring Cleaning – "Neat The Parents"

Ahh, the warmer days of spring (cue the joyful trumpeting). The delight of seeing tulips and flowering trees in bloom, the smell of fresh-cut grass and, lest we forget, spring cleaning and yard sales!

I get a little giddy at the prospect of yard sales. That is—as the seller, the peddler, the clutter un-loader. I'm rarely on the buying side of the table. That was not the case when I was a kid, running errands with my father. He could not resist the magnetic pull of a front-lawn yard sale (or flea market, or gem show, or antiques store, or auction house…you get the picture).

As a result, we grew up surrounded by a houseful of, ahem, "treasures." Not exactly the scope of what is depicted on television hoarding programs today, but enough so that the basement was a spectacle. (It had its perks though. Anything my siblings and I needed for school science projects or book report related artifacts could be conjured from that cellar with a wink and smile…as in, Fossils? You got it. Authentic WWII gear? No-brainer. A little something from a lunar mission? Just hold onto your hat!

Whether a Virgo birth trait (i.e. need for efficiency, organization, order) or childhood environmental factor, I have a sinking suspicion that I enjoy the decluttering part of cleaning (aka-tossing things out) far more than the average person. I subscribe to the age-old, simple sorting system of "Keep, Toss, Donate," and the endorphin rush end result brings a sense of clarity and contentment.

We're well served to remember spring is the only season with a dedicated name for the noble pursuit of cleaning. What better way to….OKAY, ENOUGH! I realize I need to cut to the chase, stop the flowery speech and sugar-coated sentiments!

To family caregivers whose shoes I've walked in, I owe the stripped-down, plain ole truth…

While I was in the soup, during highly scheduled days of working full time and family caregiving, I was more aptly thinking, Spring cleaning? Yeah, right (Painfully denying my Virgo DNA).

During my time in the sandwich squeeze, whether in my own home or especially when trying to tackle piles on the elderly side of the equation, it was more a lesson in diplomacy than showcasing clever cleaning tips and tricks. What would have helped was, well—help. To be more specific, workplace policies in alignment with family caregiver needs.

Employers—Mindful that our mutual concern and focus is on the family caregiver in the workplace, I'll offer that my glorious, virtual trumpet trill at the beginning of this post is in reality, for many caregiving working professionals, a dull dirge played for the losing contestant on, say, The Price Is Right (or any game show, for that matter) Wonk, wonk, wonk, wonk.

At the time, I felt my situation was unique. It wasn't. The elephant-in-the-room reality is that many Baby Boomer and Generation X employees have parents who have lived through the Great Depression. We've been taught it's a matter of good old-fashioned common sense to save, re-use and re-purpose out of necessity. There may come a day when we'll need that one particular thing, whatever it may be. In which case, all of the non-savers are the foolish ones. You see?

And that's just one of many reasons why seniors are prone to saving. It can range from not knowing where to begin, to fear of loss, depression, and dear memories associated with specific items. (Yes, I realize this is a glossed-over list of the reasons. In actuality, there are reams of research on the matter). Needless to say, whether in the name of safety or not, plans to help clean are not always welcome. This can make it an even more exhausting undertaking during evenings and weekends. Sorting through items that have been gathered over a lifetime can be a gut-wrenching process for everyone involved.

Dr. Catherine Roster, a University of New Mexico clutter researcher, shares in an article called Clutter Creep: The Elephant in the Room, "People don't want to acknowledge there is a problem, which creates an underlying anxiety, stress, guilt or embarrassment that can have a negative effect on their mental health and productivity."

Providing flexible time for something as seemingly trivial as organization is actually the opposite—highly relevant. Taking a page from Employment Assistant Program (EAP) best practices, consider allowing spring cleaning activities as part of personal time off policies (PTO), or as a suggested bank of activities to help employees focus elder care dedicated time. For example:
Organizing important documents – The ability to locate and file legal, health and financial documents (before an emergency occurs) will save time, money and minimize employee and workplace anxiety.
Assessing elderly living conditions- Helping parents clean their homes is an excellent opportunity to evaluate the safety of the living environment. Providing employees with in-house workshops and information on how to evaluate safety for aging relatives offers peace of mind.
Developing a network of help – In the initial days of research for my book, I conducted an interview with Kim McCarthy, Founder/Owner of Generations on the Move, a Massachusetts-based senior move specialist whose focus is to help elders (and baby boomers) downsize their current homes. Having assisted hundreds of families nationwide, she shared that the most common misconception she sees is the belief (from both the elder and adult children) that items are worth more than they actually are. "So much time and energy is wasted hoping for the rare, priceless treasure. Chances are you can find that same mantle clock or china doll on eBay."
Services such as Kim's can provide a much needed middle man to facilitate family member interests and buffer some of the emotion. Localized assistance related to downsizing and senior move management can be found at the National Association of Senior Move Managers.
Clutter and all, family caregivers take heart as I know you are laser focused on what matters most—your loved one. I'm confident that workplace attitudes and programs will adapt to meet working family caregiver needs. In the meantime, we'll all continue to enjoy spring!
I'm interested to hear creative workplace policies that you've come across (or wish for) that would lighten your load.